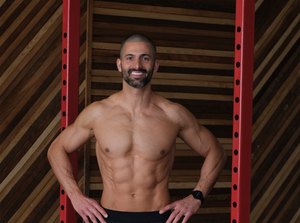 Jeff Cody
Bio
Jeff got his start in the fitness industry years ago when he came to the realization that his passion of being active and staying healthy aligned with his passion of helping people.
Jeff's area of focus encompasses several aspects, and they all relate to overall well-being and maintenance of a healthy lifestyle. Fitness and working out is a huge part of that for him—but that's only one aspect of the equation.
He maintains a healthy relationship with food and the beneficial effects from eating the right foods at the right time. Jeff believes that we all need to have our minds geared in the right direction in order to live healthy and live longer.
Favourite Way to Sweat
Favourite Way to Recover Post-Workout
Dynamic Stretching, Sauna and a delicious smoothie.
Greatest Accomplishment
Creating a healthy lifestyle plan that has helped others reach their goals and improve not only in their physique but their overall well-being. The satisfaction of helping others gives Jeff a sense of accomplishment.
Go-To Recipe
Living Your Best Life
To Jeff, living his best life means enjoying life with no regrets and travelling to different cultural areas to learn more about them and himself to be able to grow as a person.
Favourite Products​
---